The following is a list of scam phone calls or phishing emails that I have received or delt with recently.
Home Appliance Insurance scam
7-Nov-2019. Just had a scam phone call from Jade at 'Home Guard Care' or some such company, informing me that my Home guard insurance policy had just expired, but as I hadn't made a claim in the previous two years I could renew at a reduced price of £90.00 for two years, down from the £108 I paid two years ago.
Trouble is I do not have an insuance policy with this crowd. Now, according to Jade, I made a payment to this lot on November 5 2017. When I asked Jade to stay on the line whilst I went to check, Jade hung up.
This is the second time this lot has tried this scam. The phone number was withheld so I am unable to trace it back. Not that it makes much difference, because the phone numbers used are usually 'one-off's.
HSBC
Been informed that a number of suspious transactions have been notes on my HSBC account. Am provided with a URL to click on order to check. Just one problem, I do not have a HSBC bank account.
TV Licence
June 2020. My neighbour received an email proporting to be from the TV Licensing Authority stating that she need to to pay her TV licence Fee now that the licence is no longer free for over 75's with a link on where to go to pay it.
The URL was obviously NOT the TV licensing authority, and the requirement for over 75s not receiving the pension top-up to pay for the TV Licence has been delayed until September.
Expect these types of scams to resurface come September.
Vodafone
24-Sep-2020. Recieved a text message from +44 7487 305443. Proporting to be from Vodafone. "We were unable to process your latest payment. In order to avoid fees, please update your information via https://vodafone.uk.id-01879.com/?v=2"
Amazon Prime
6-Oct-2020. Next door neighbour received an automated phone call message stating that her Amazon Prime payment of £35.02 was overdue and could she please call the following number to arrange payment. My neighbour does not have an Amazon Prime account, but due to Amazon's dirty little trick earlier in the year of making it appear when ordering that you were not accepting their 3 month free trial, when in fact you were, a number of people were conned into opening Amazon Prime accounts. This blantant mis-direction by Amazon opened up a massive window of opportunity for the scammers and phishers.
Thank you Amazon
Microsoft Worldwide Web – Your Computer has a virus
Jan-2021 I thought this scam had completely run its course. But no. Still out there. In case it is one you have not come across, the scam goes along the lines of
"Hello we are from Microsoft and we have detected that your computer has a virus. If you help us we can remove the virus from your computer" What they want is either bank account details as you sign up for a phoney service contract or access to your PC where they will extract every bit of data they can and/or install key logging software.
Used to be a time when I would play along with the call just to see how long I could keep them on the phone. No fun anymore though. Now I just tell them they are lying, put the phone down and block.
HMRC
Feb-2021 Scam phone call saying we owe HRMC £85 and that the bailiffs were coming round to seize property and issue a court summons. Press 1 to speak to a representative about making payment.
Reported to HMRC.
Vodafone
Feb-2021 Email purporting to be from Vodafone saying that my account had been blocked. Link provided to unlock account.
Reported to Vodafone.
Lloyds
March-2021 Received the following text message – supposedly from +44 7810 098864
Lloyds: A request to add a new payee has been setup on 08/03 at 15:24PM. If this was NOT you please visit: https://lloyds.security-mobile-activity.com
DVLC
March-2021 Neighbour received an email purporting to come from DVLC saying that
Dear Sir/Madam Payment for the following vehicle is incomplete Pay now

| | |
| --- | --- |
| Registration | Correct Registration |
| Make | Correct Make |
| Colour | Correct Colour |
| Year | Correct Year |
| Tax Band | Correct tax band |
| Tax Cost (12 month) | Correct 12 month tax |
| Tax Cost (6 month) | Correct 6 month tax |
Please click the following link to finish the payment process: https://ww1.vehicleinformation.uk/payment-ac?e=sogcn4HcZPoySoL7rck2id8ndPL6I2rpZ1TTSi9W7YkFOQUAaDfGGdjeXwfE
Now most of the above is freely available on the DVLA web-site. Just type in a vehicle registration and you can gleen everything on the right hand column.
What you cannot get from the DVLA web-site however, is the association with an e-mail address. So, that someone has been able to connect those two dots is worrying. The above was reported to DVLA and report@phishing.gov.uk
HMRC
March-2021 Received email stating I was entitled to a Tax Refund from HMRC. HMRC do not use emails for this type of communication. Reported to both HMRC and report@phishing.gov.uk
Amazon
April 2021. Received an automated phone call proporting to be Amazon sayying that a purchase for £115.95 was made today. If I recognise the purchase then do nothing. If I do not recognise the purchase, then contact Amazon Customer Service by pressing button 1.
No idea what happens if you press button 1. Could be an attempt to get credit card / bank account details, or it could be a connection to a premium number.
Norton
Received several of these Autumn 2021 – Text message to mobile phone stating that your Norton Anti-virus is about to expire and click on link to renew.
BT
October 2021 – Email on one day, supposedly from BT, stating that their Broadband T&Cs are about to change. Next day another email again suposedly from BT, refering to previous day's email, and requesting that you click on a link in order to renew your T&Cs.
Royal Mail
February 2022 – Received a very convincing email apparently from Royal Mail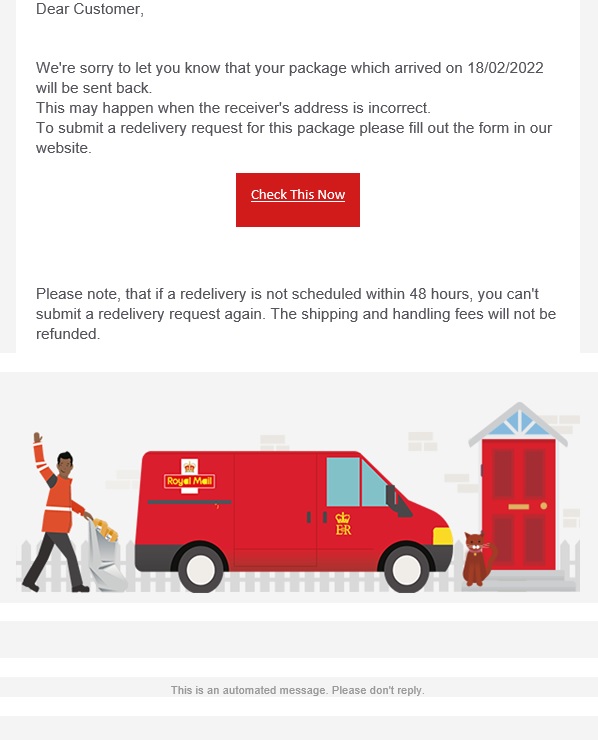 What was really worrying was the link, which was to @royal.mail.tracking, but to an ISP in Iran!
Netflix
25-March-2022 Architypal email stating 'Difficulty with Billing Info' – please click on link. Not very convincing.